When it comes to work-life balance, Colorado residents seem to be dialed in on how to live life to the fullest. Home to the breathtaking Rocky Mountains, thousands of miles of recreational trails and an influx of local microbreweries, the Centennial State is a mecca for outdoorsmen and women and a cultural hub in it's own right.
We know that Colorado's cities and towns all have their own unique qualities that make them a great place to live. However, we wanted to figure out exactly which locales boasted the best work-life balance. So, we compiled a list of the 46 towns and cities with a population of over 10,000 people and split them into three categories: cities, large towns and small towns.
Then, we collected data from the U.S. Census Bureau, City-Data.com, Glassdoor, Colorado Brewery List and local Yelp listings to find the places that had the best balance of cost of living, career opportunities and recreational options. We compared towns in each section on the following categories:
Mean household income

Median monthly housing cost (for both renters and homeowners)

Crimes per capita

Job openings per capita

Mean commute time

Unemployment rates

Mean hours worked per week

Breweries per capita

Parks per capita

Museums per capita
Here are the top five cities and towns from each section, with a few details about why you might want to call them home. Did your town make the list?
Cities
We defined Colorado's cities as having a population of more than 100,000 residents, according to the last U.S. Census. To find the top results in this category, we compared the ten cities that matched this population criteria.
1. Denver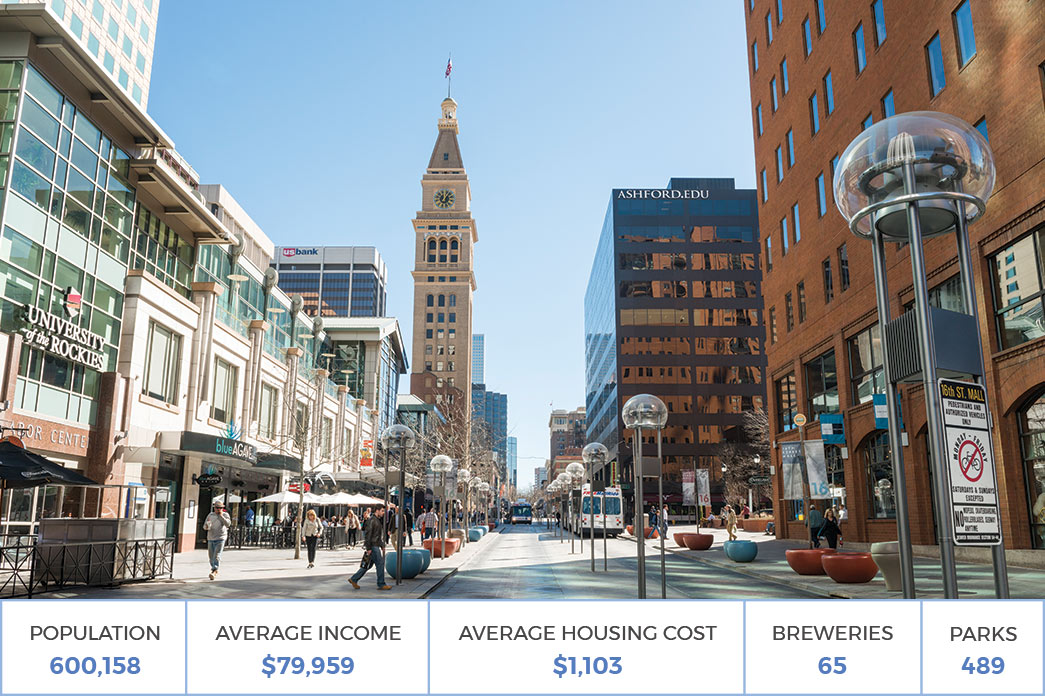 With a history dating back to the days of the Wild West and a plethora of modern museums and breweries, the Mile High City is a perfect convergence of charming neighborhoods and modern metropolis. A lot of new job opportunities have caused people to flock here in recent years, and it's no surprise why. After a day at the office, you can grab a local beer and cheer on the hometown Major League Baseball team, the Colorado Rockies, at Coors Field or relax at one of the city's many museums or recreational parks. For the outdoor loving residents of Colorado's capital, the Rocky Mountains prove to be the ultimate weekend getaway. If you love the silent beauty of untouched nature, but can't go without the buzz of a city, this may be a great place to call home.
2. Fort Collins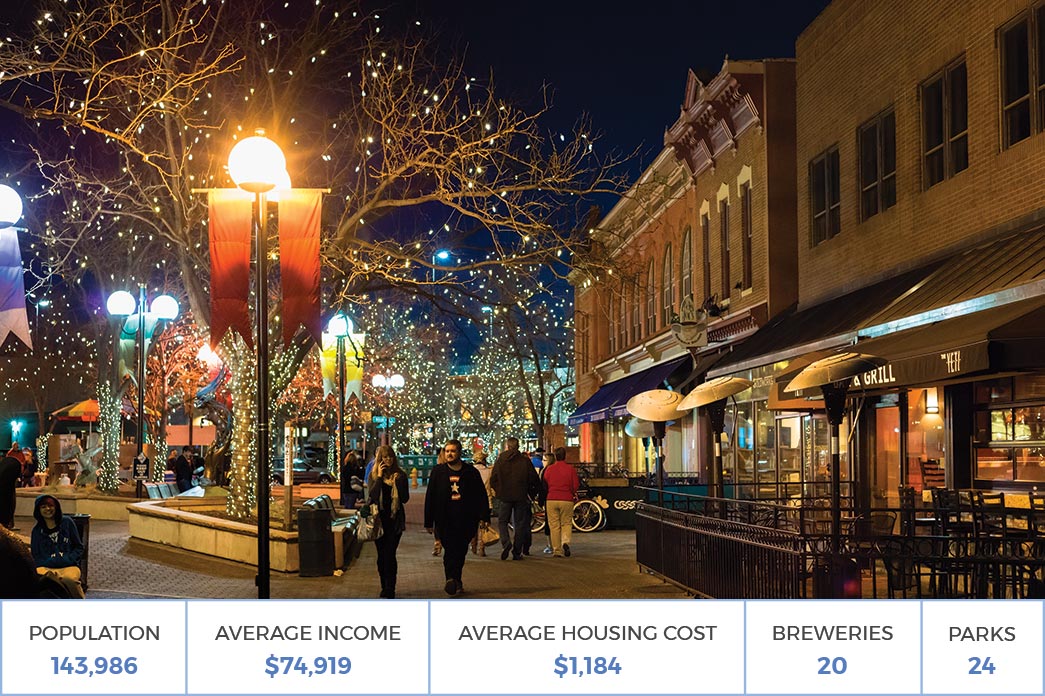 Fort Collins is a relatively quiet college town that is home to a vibrant community of local craftspeople, local farm-to-table restaurants, beautiful landscapes and a downtown that inspired Disneyland's Mainstreet USA. Its residents also enjoy the shortest work week and have the most breweries per capita of Colorado's mid-size cities, making it a great place to balance work and life. When you are ready to get out of town for some mountain air, the celebrated beauty of Horsetooth Reservoir is waiting nearby.
3. Colorado Springs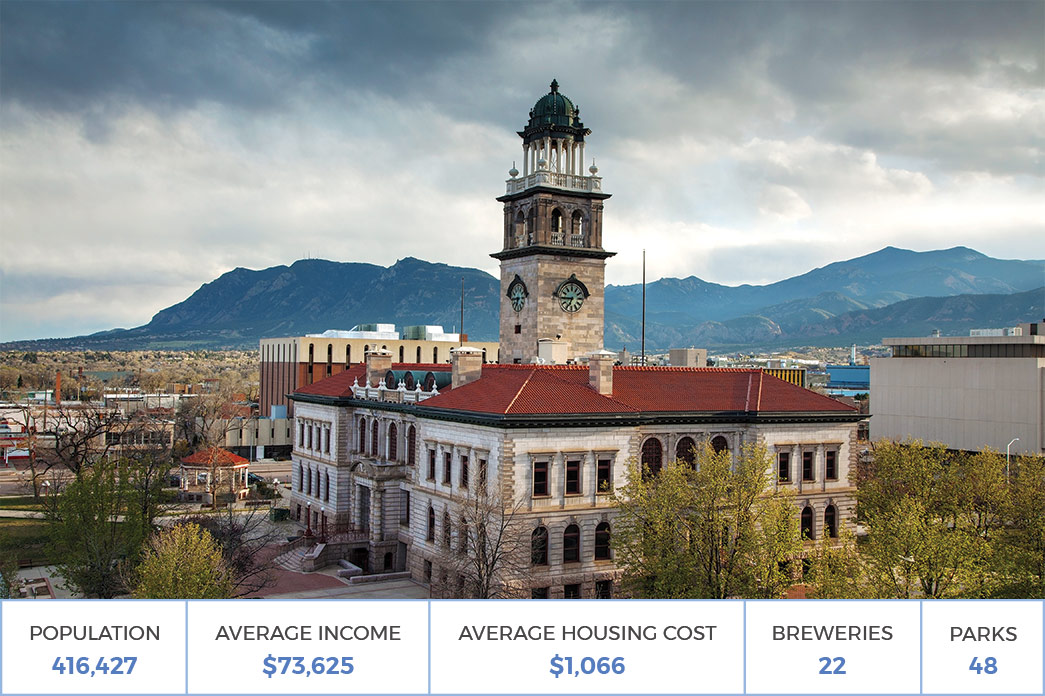 Colorado's second-largest city has one of America's most famous landmarks, Pike's Peak, and is home to some of America's most talented athletes. Home to a U.S. Olympic Training Center and the U.S. Air Force Academy, 'The Springs' attracts fitness lovers, outdoor aficionados and cultural buffs who want the fine dining and arts scene of a big city with a small town pace. The endless entertainment options and family-friendly activities, like a day watching real cowboys at a rodeo or seeing exotic animals at the zoo, make this a great spot for both families and young professionals.
4. Centennial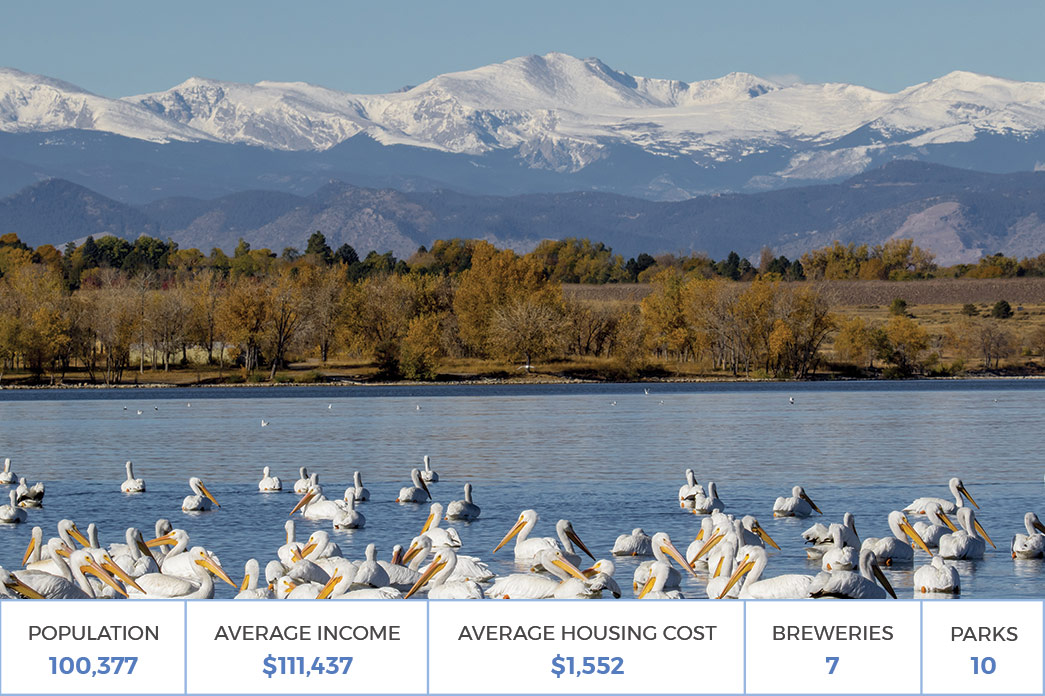 Centennial residents have one of the highest household incomes in Colorado, low unemployment and plenty family-friendly playgrounds, parks and bike trails. For the entrepreneur-minded, there is also over 80,000 square feet of co-working spaces. The many free events revolve around outdoor spaces, which let locals take advantage of their 300 days of sunshine and beautiful views.  
5. Arvada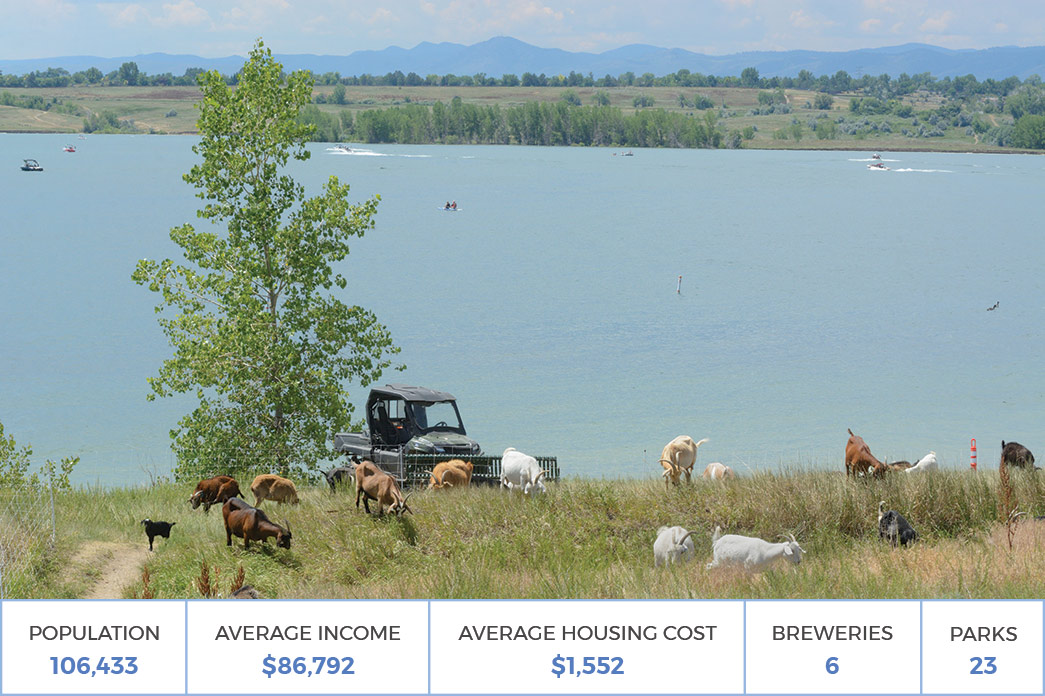 One of Colorado's cities with gold rush roots, Olde Town Arvada is reminiscent of the historic Americana feel you would expect from a mid-sized mountain town. When it comes to relaxing after work and on the weekends, residents can enjoy a show at the prized Arvada Center for the Arts and Humanities or sip craft beer at one of the local microbreweries.
Other cities we researched: 
Lakewood
Pueblo
Westminster
Thornton
Aurora
Large Towns
All the large towns on our list have a population between 20,000 and 100,000 people. To find the top results in this category, we compared the 16 towns that matched this population criteria.
1. Boulder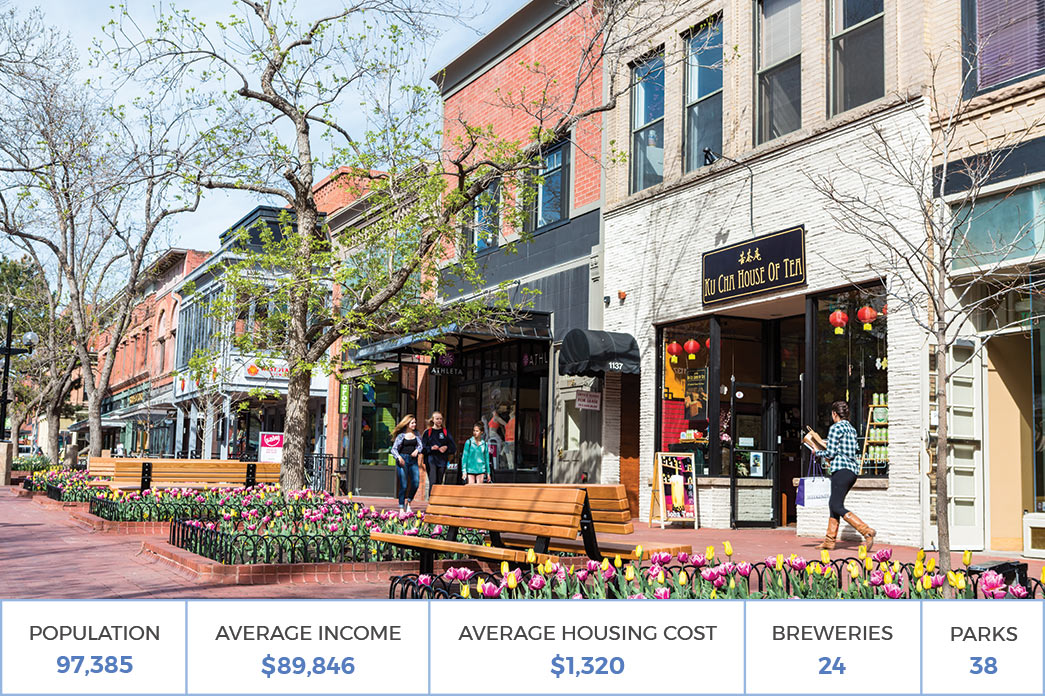 At the top of the list for Colorado's best large towns is Boulder, and it's no surprise why. High household incomes, moderate housing, good job opportunities and short commute times make this city a great place to work. Meanwhile, being home to the University of Colorado Boulder gives it a young vibe, bringing with it the arts, culture and nightlife you might expect from a college town. In their free time, residents love to explore over 145 miles of trails with a view of the Rocky Mountains in the distance.
2. Littleton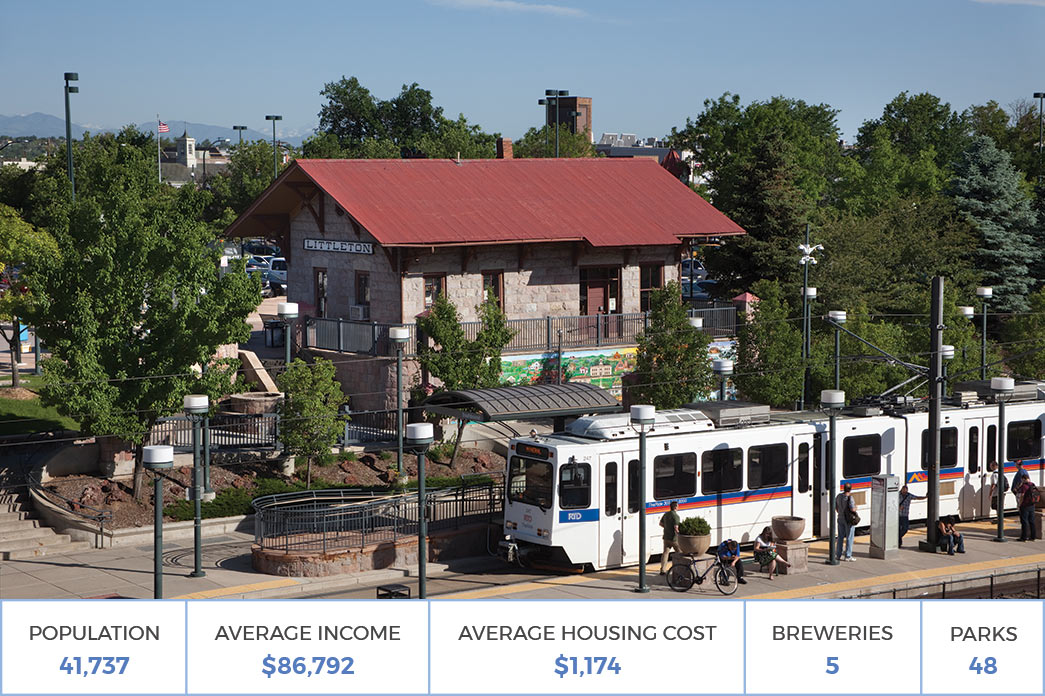 Littleton is a suburb of the Denver Metro area with a small-town charm that makes it all it's own. Walking along Main Street, you'll find remnants of its Gold Rush roots, like a 19th century farm, historic buildings and plenty of antique shops. But the town isn't stuck in the past; it's residents enjoy weekly farmers markets, several local breweries, an active community theatre and 85 miles of bike trails that connect to surrounding areas.
3. Lafayette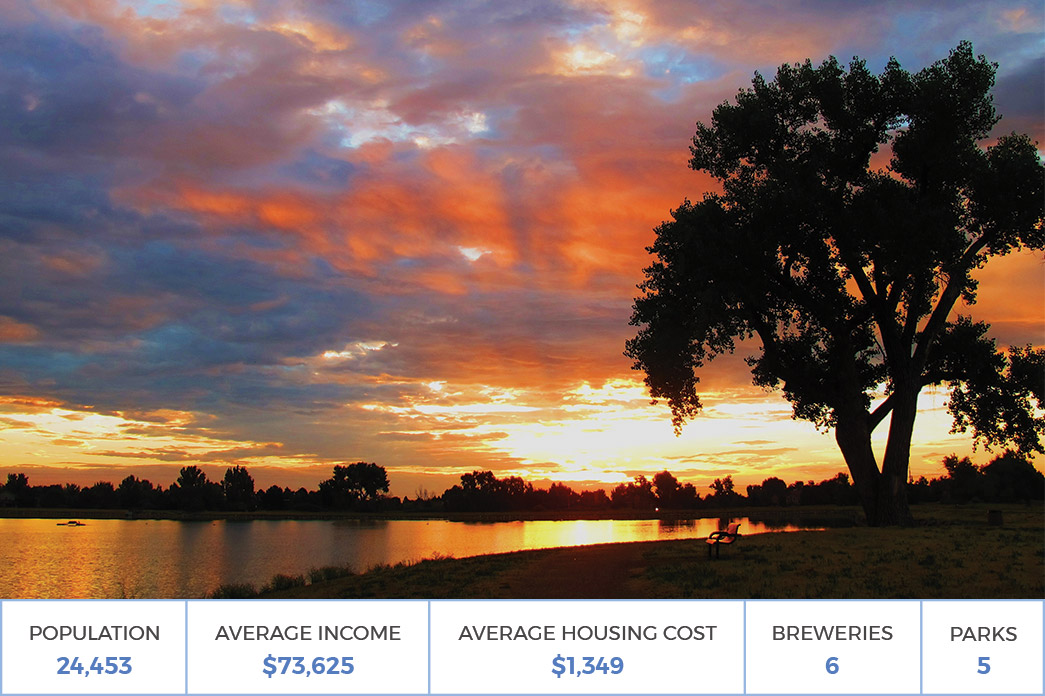 Pronounced "law-fee-et" by the locals, Lafayette is the smallest of Colorado's large towns at a population of 24,453. But a town-wide initiative for solar energy advancements, a local farmer's market and numerous well-preserved green spaces make this a great home base for those who want more work-life balance.
4. Broomfield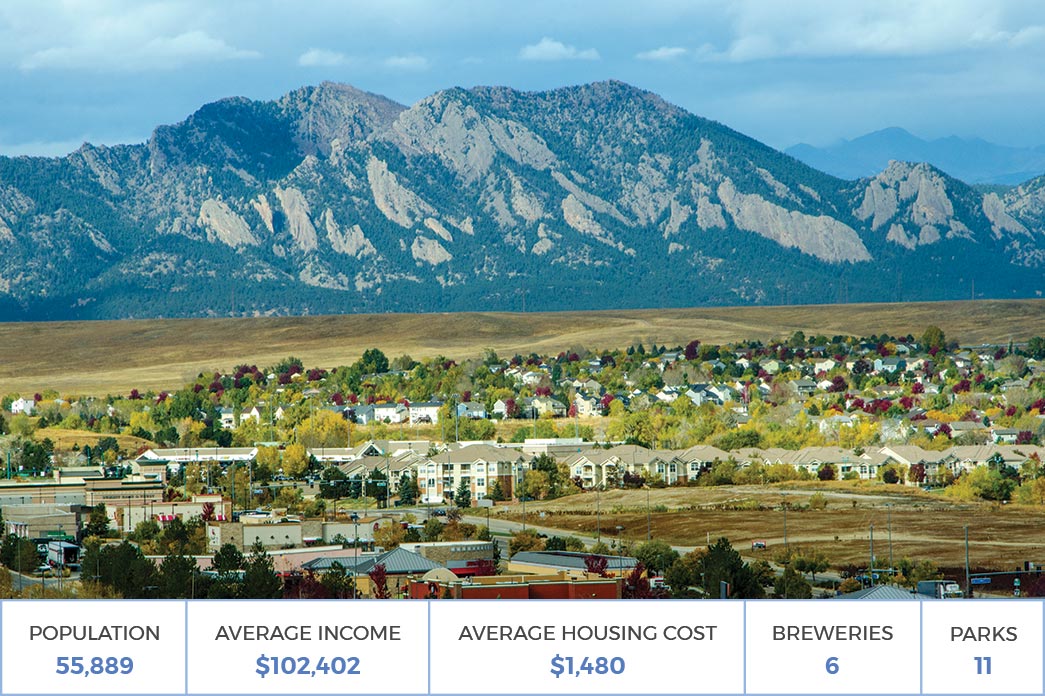 Broomfield is no sleepy mountain town. Three golf courses, the Flatiron Crossing outlet mall, the 1stBANK Center concert hall and the Paul Derda Recreation Center keep the events calendar full and provide something for everyone. Residents work hard and play hard here, working the highest number of hours a week but also bringing in in some of highest household incomes of Colorado's large towns.
5. Loveland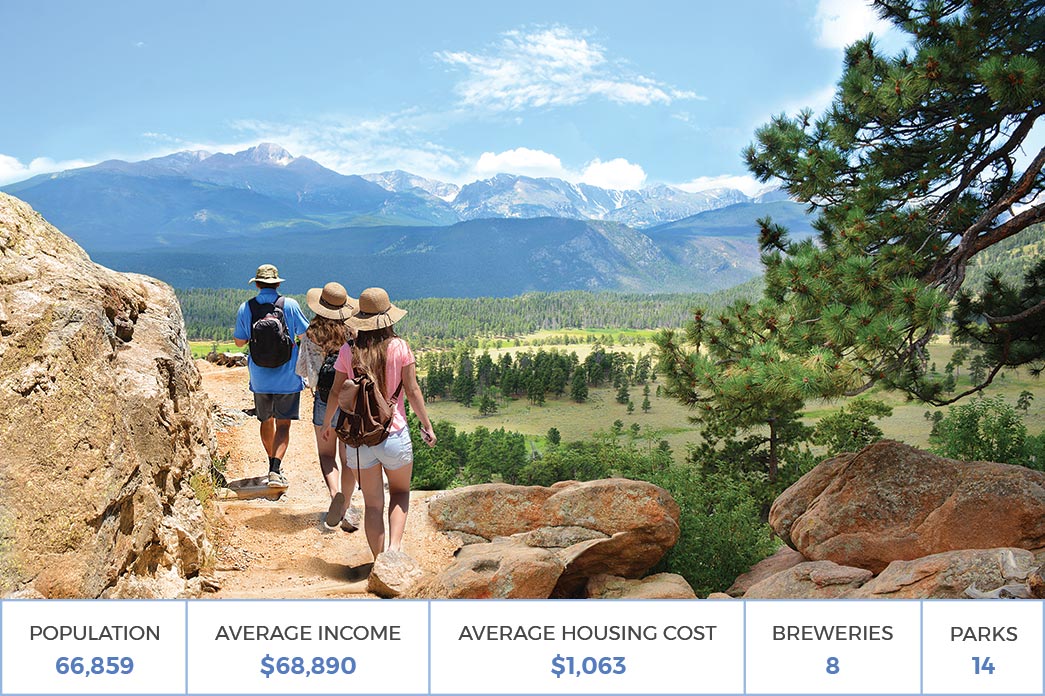 Loveland is close to all the best that Colorado has to offer, being just a 35-minute drive from Rocky Mountain National Park and Estes Park, and a 45-minute drive to Denver. Locals here make the most of their beautiful town and enjoy staying active in their free time, whether it's horseback riding, hiking, golfing, fishing, skiing or just strolling the streets of downtown perusing local art and antiques. 
Other large towns we researched:
Longmont
Grand Junction
Greeley
Castle Rock
Parker
Wheat Ridge
Englewood
Brighton
Northglenn
Fountain
Commerce City
Small Towns
These charming small towns have a population between 10,000 and 20,000 people. To find the top results in this category, we compared the 18 towns that matched this population criteria.
1. Golden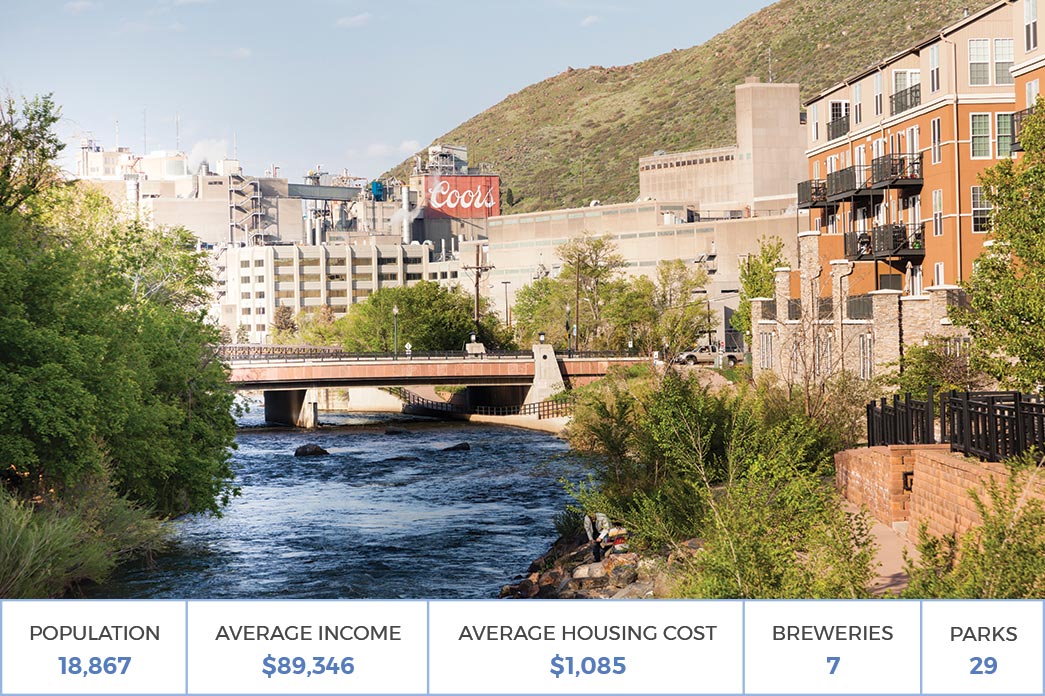 Golden is small town living at its best, boasting high household incomes, moderate housing costs, short work weeks, plenty of breweries (including the Coors Brewery) and even more outdoor recreation options. Whether you are just visiting or here to stay, you should check out the Colorado Railroad Museum and Buffalo Bill's Grave for a glimpse of Colorado's Wild West history.
2. Greenwood Village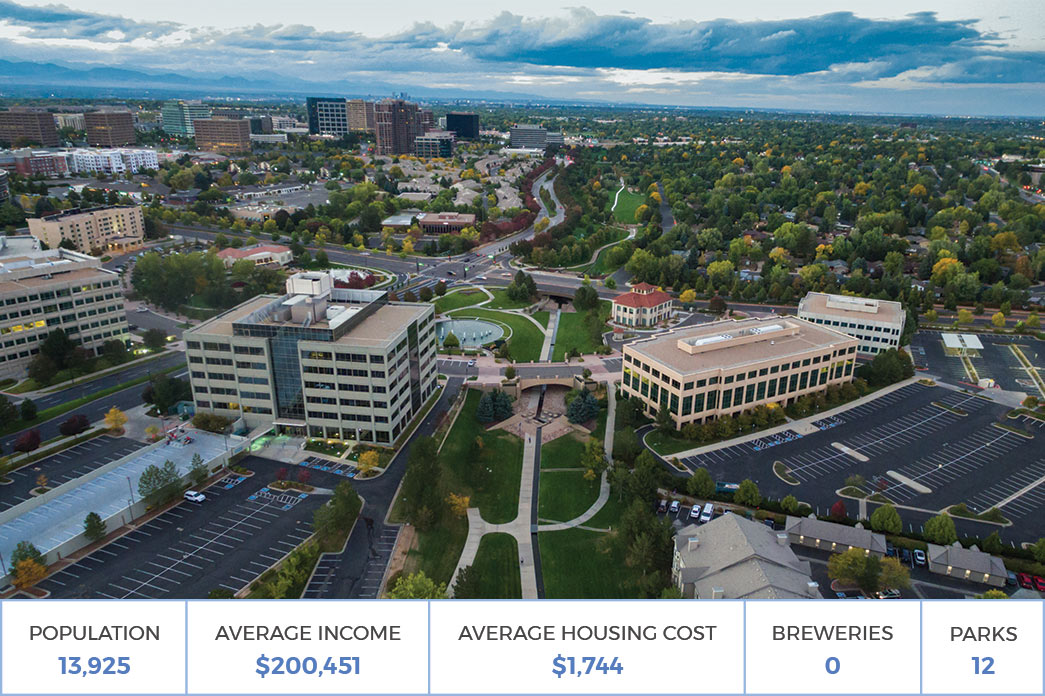 Greenwood Village is a family-centric small town with breathtaking views of The Front Range. Sports, cultural events and art exhibits revolve around the local schools and the Curtis Center for the Arts. Its safe, rural town with long, winding roads that are perfect for an evening walk or bike ride with the family.
3. Steamboat Springs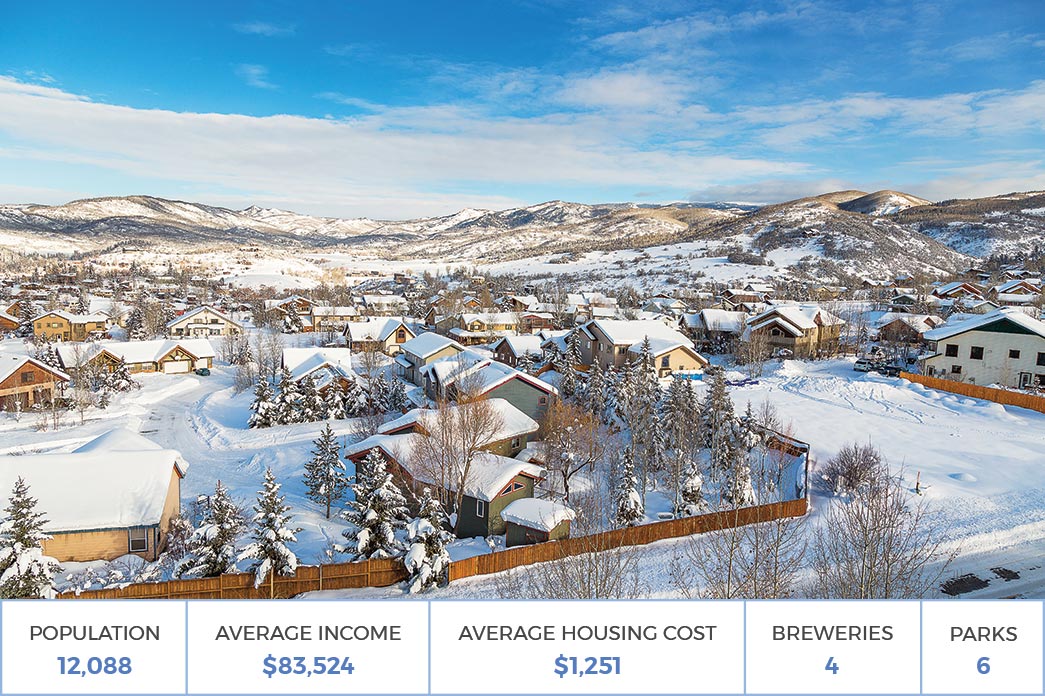 Internationally known as a famous ski resort destination, Steamboat Springs can be recognized by its iconic views of Mount Werner. For residents who live here year-round, staying active is an important part of their lives. The small town is recognized as a Gold Level Bicycle Friendly Community, has been the birthplace of several professional and Olympic athletes and has 13 parks within its city limits. When the weather's too cold outside, you can head to a brewery or warm up in one of the nearby hot springs.
4. Durango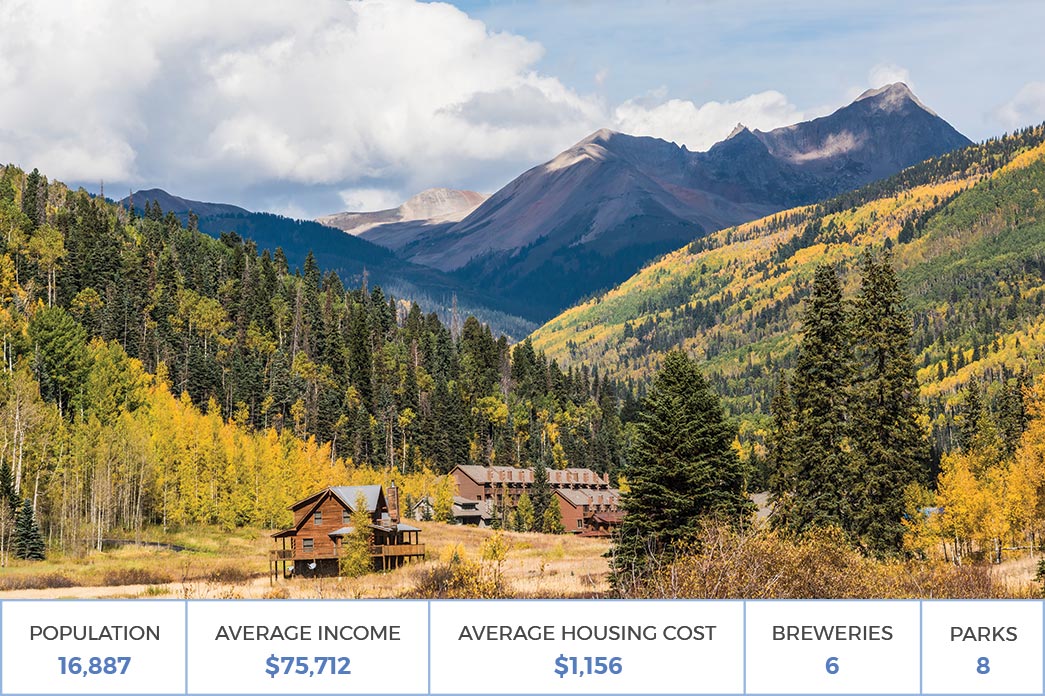 Situated near the New Mexican border and the nearest town to Mesa Verde National Park, Durango's western heritage has played an important role in shaping the ambiance of the town. Locals here enjoy 300 days of sunshine and can explore the nearby San Juan National Forest as its leaves and views change throughout the year.
5. Louisville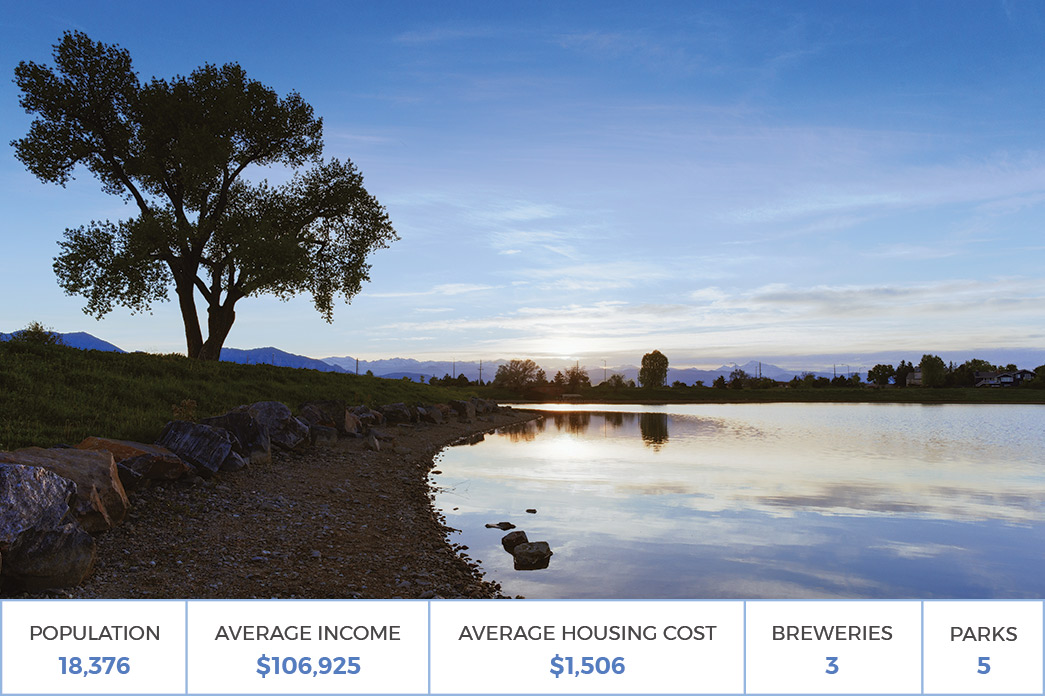 Louisville is an authentic small town with a lot of personality. Whether you are looking for fine dining, hometown pubs, a historic museum or modern music, you can find it in Downtown Louisville. Residents here enjoy a nice balance of household income, hours worked and activities to enjoy in their free time.
Other small towns we researched:
Windsor
Superior
Erie
Canon City
Lone Tree
Fort Morgan
Castle Pines
Sterling
Firestone
Fruita
Evans
Montrose
Federal Heights
After reading the data, it's clear that Colorado's cities and towns won't disappoint no matter what your interests. Active families, history buffs, beer savants and backcountry fanatics will all find this mountain state a great place to call home.
Whether you've lived here your whole life and are moving to a new town or are relocating from another state, finding the right home can always be a challenge. That's why we recommend working with a Realtor who knows the neighborhood you want to live in and can help you find the best deal.